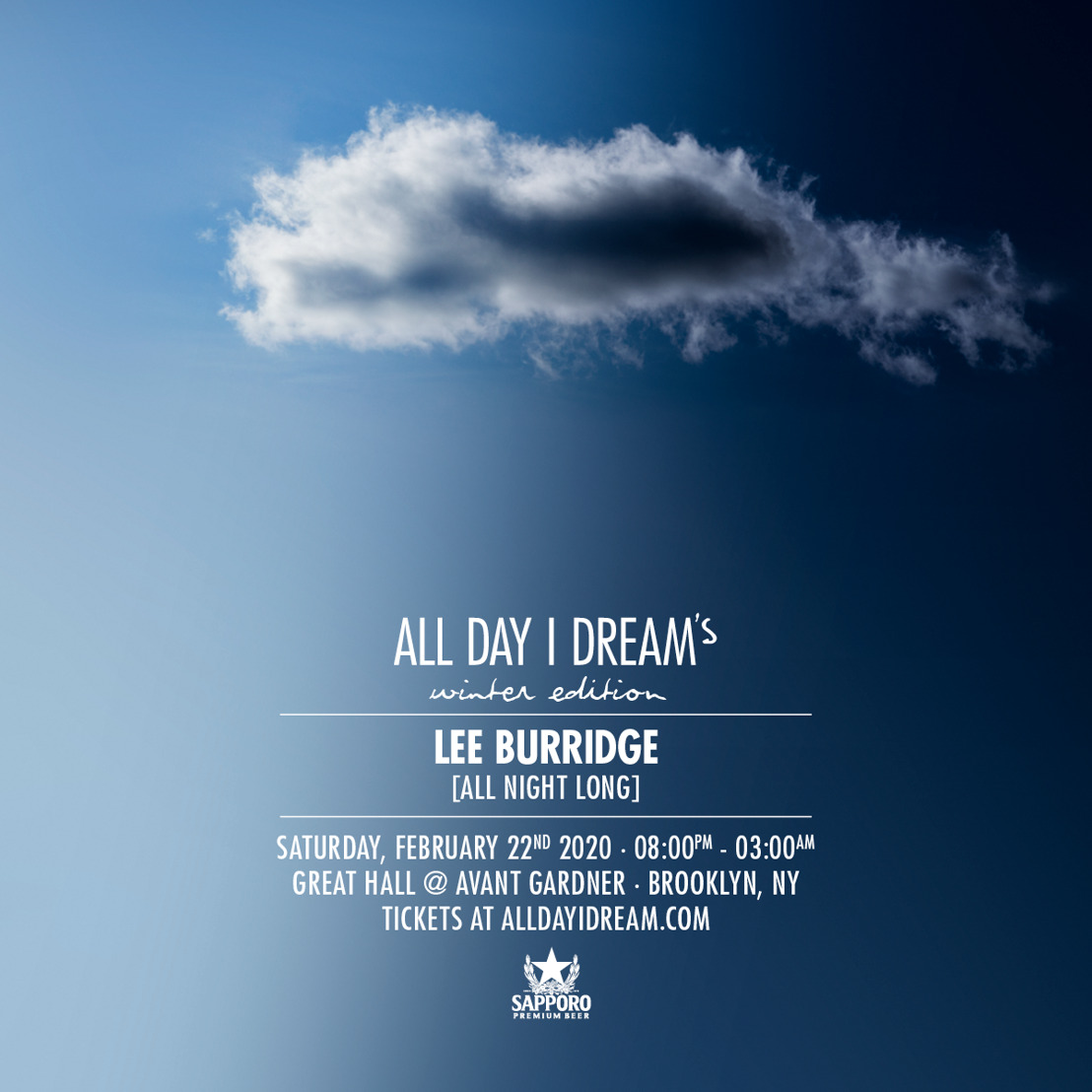 Lee Burridge Announces All Day I Dream Winter Edition
Friday, January 31, 2020 — Open-to-Close set at Brooklyn's Avant Gardner
February 22 - TICKETS HERE
Today, Lee Burridge has announced the February return of All Day I Dream to its hometown of Brooklyn for an indoor, all-night affair. The hallowed Grand Hall of Avant Gardner will be transformed into a winter dreamscape as Burridge helms an eight hour journey into the depths of his label's repertoire and beyond.
"On long winter nights we all yearn for summertime brightness sometimes. The warmth. The bliss. Although we can't promise this feeling from the weather we can promise it from a very special musical journey Lee Burridge will provide on February 22nd.

As we enter the new decade together we decided to create a special evening of music, drawing from many magical moments we all shared since 2011. All Day I Dream continues to forge forward musically but we thought it would be wonderful this Wintertime to also look back at the musical path we led.

Once upon a time, a long time ago we moved the party indoors. As the snow fell outside the dance floor exuded nothing but warmth and we felt it the perfect occasion to bring that Winter magic back to New York.

Harking back to All Day I Dream's early years Lee will also play open to close.

Winter is a wonderful time to Dream." - Lee Burridge
The past ten years have seen All Day I Dream grow from a humble rooftop gathering to a veritable musical movement whose influence spans across the globe, drawing hundreds of thousands into its whimsical spaces lined with vibrant décor and emotive soundtracking. With the past year alone seeing the party filling out its spaces from Dubai to London, to San Francisco, All Day I Dream is poised to carry its legacy well into the new decade.
Connect With All Day I Dream:
https://soundcloud.com/alldayidream
https://www.facebook.com/alldayidream/
https://twitter.com/AllDayIDreamOf