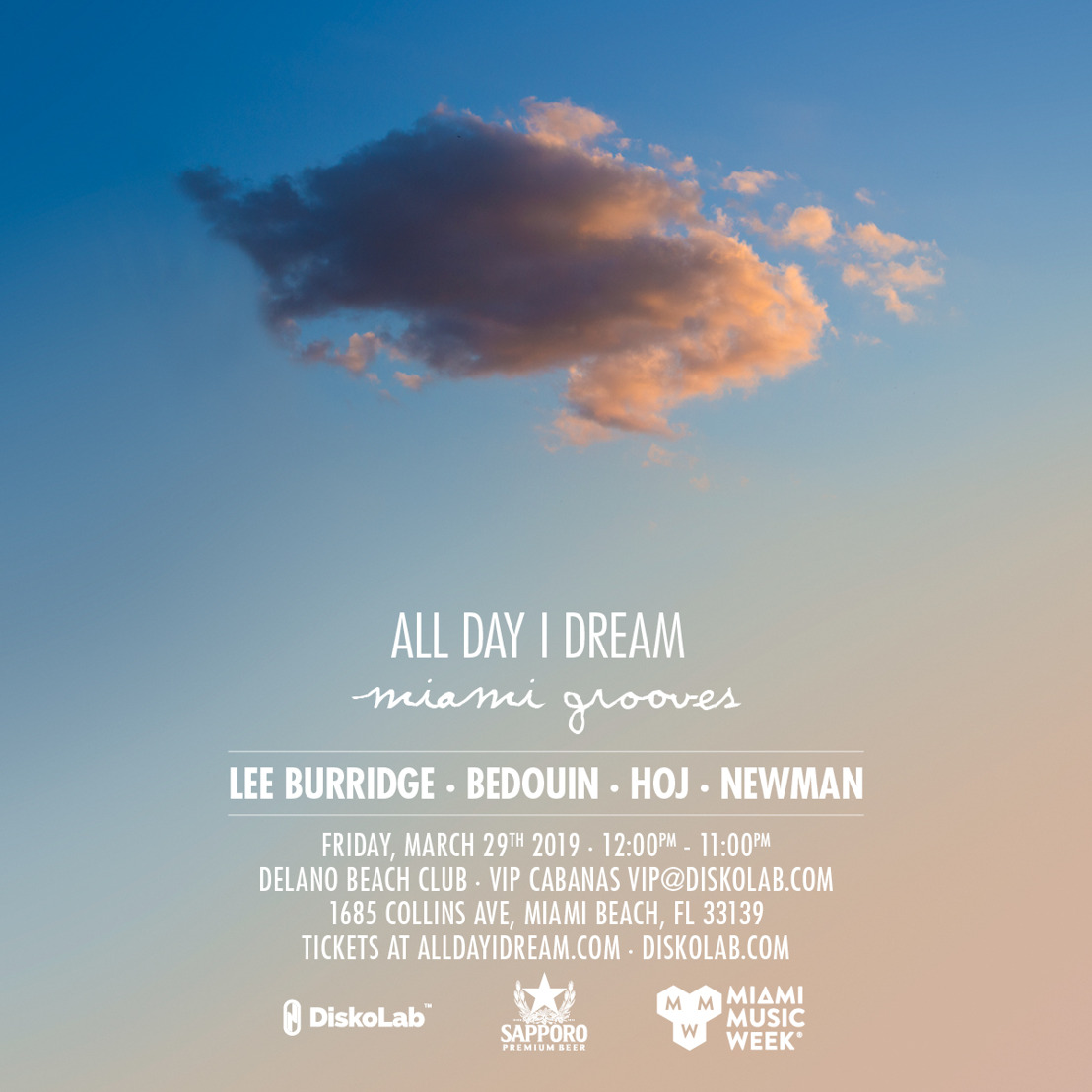 All Day I Dream Miami Grooves Unveils 2019 Date + Billing
Wednesday, February 27, 2019 — Lee Burridge, Bedouin, Hoj, and Newman to take over the Delano South Beach on March 29
Tickets On Sale: https://tixr.com/pr/adid/12604
All Day I Dream will be touching down at the Delano South Beach on March 29 to offer yet another day of blissful musical escapism from the chaos surrounding Miami Music Week. Sonic conductor Lee Burridge will be assembling a slew of labelmates to join him in supplying ethereal soundtracking throughout the day-into-night soirée.
Mystic leaders Bedouin will be joining Lee for All Day I Dream's 2019 Miami edition, along with Tale + Tone co-founder Hoj, and the rising Newman—each of which are proven leaders in the melodic house and tech arena.
2018 represented yet another unprecedented year for the All Day I Dream camp, who continued to make headway into new countries and locales across the globe. In addition to a successful return to newer destinations like Chicago and Dubai and showcases at prime festivals like Secret Solstice, BPM and ADE, the brand also debuted in cities like Mykonos, Ibiza, Istanbul, and Las Vegas—cementing its status as a global force for deeper, emotive shades of dance music. Dreamy décor, unbridled positive energy from guests and performers, and emphasis on connection via music translates to its reputation as one of the world's best parties and a place where guests are guaranteed to blissfully lose themselves under the beaming sun.
The All Day I Dream label continues to grow as well, with an unrelenting commitment from Lee to supporting new and well-established artists that are breaking the status quo musically. One such example is the recent Adagio EP from Double Touch, a new project from Mark Olsen and classical pianist Van-Anh Nguyen that fuses classical into underground dance music. Other recent releases include Death On The Balcony's landmark Shift The Perspective EP, and Sébastien Léger's anthemic Underwater Rocket. The latter climbed deep house charts and later became one of the label's top records of 2018.
More information on All Day I Dream Miami Grooves here: https://www.facebook.com/events/554840145017805/
Tickets: https://tixr.com/pr/adid/12604
Full Lineup:
Lee Burridge

Bedouin

Hoj

Newman
About All Day I Dream
All Day I Dream events began on a Brooklyn rooftop back in 2011 and have since become an international sensation. Around the world, crowds gather to become part of a community spurred on by Lee Burridge and his unique roster of artists, each bringing forward a signature technicolor emotionalism, the sort that's all too rare in the current electronic music scene.
Spreading across the world from New York to Los Angeles, from London to Moscow, Berlin to Beirut, the parties expanded and flourished due in part to Lee's major presence at Burning Man and his desire to create something magical.
Giving the partygoer (or "Dreamer") more than just the usual short DJ set, All Day I Dream aspired to create it's own unique ambience through the combination of the musical selection and journey as well as unique venues, each decorated with draped fabric, fairy lights and lanterns creating an unparalleled and magical atmosphere.
About DiskoLab
DiskoLab is a multifaceted laboratory specialized in booking, marketing, and producing electronic music events, artist tours, and festivals. By creating and developing cutting edge concepts, brands, and campaigns, DiskoLab has created a unique bond between artists and music fans all over Florida.