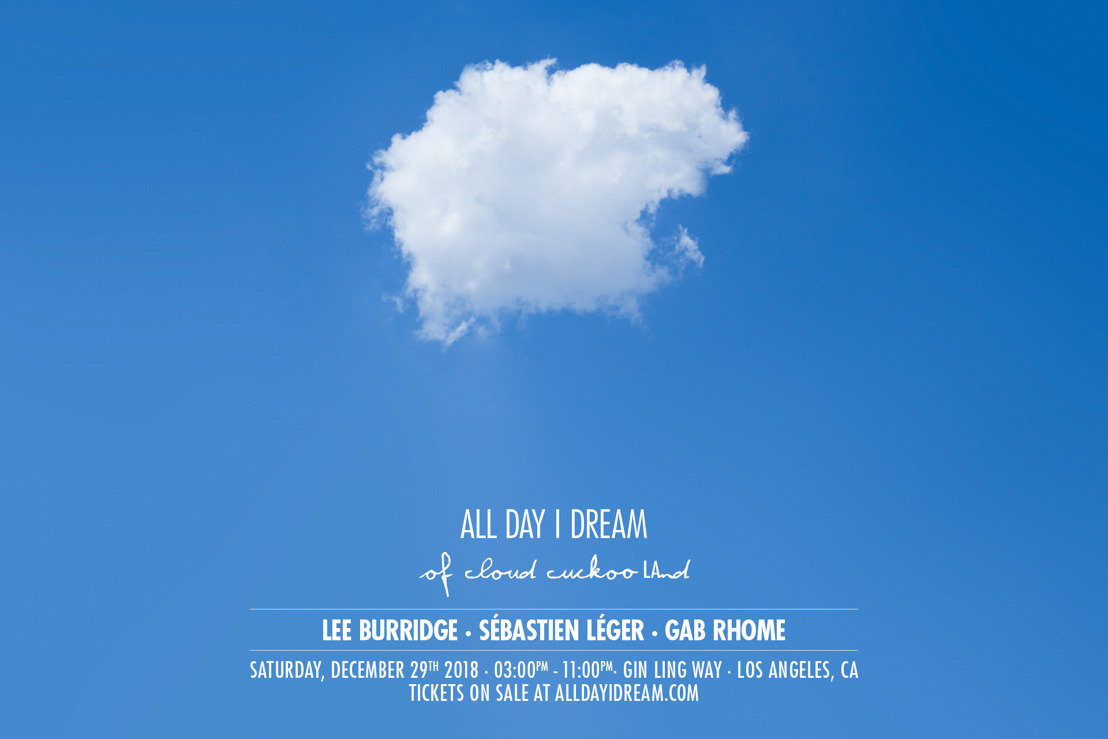 All Day I Dream Announces Annual New Year's Weekend Show in Los Angeles
All Day I Dream of Cloud Cuckoo LAnd
Friday, November 30, 2018 — Taking Place at the Historic Gin Ling Way in Chinatown on December 29
All Day I Dream has hosted their much anticipated New Year's party in Los Angeles for the past five years. Simultaneously welcoming the new while also watching the sun set on another trip around the sun.

This year's gathering welcomes California dreamers back to Chinatown's Gin Ling Way. A fitting home for those mystical, musical journey's created at the event time and time again. On December 29, Lee Burridge will be joined by melodic house maestros, Sébastien Léger and Gab Rhome, to celebrate with you, your friends and family. A magical end to 2018 is in store for us all.

All Day I Dream closes out it's most monumental year to date after embarking on the world tour that connected and collected dreamers at over fourty events across fifteen countries. In addition to a successful return to newer destinations like Chicago and Dubai and showcases at prime festivals like Secret Solstice, BPM, and ADE, the brand also debuted in cities like Mykonos, Ibiza, Istanbul, and Las Vegas — cementing All Day I Dream's status as a global force for deeper, emotive shades of dance music.

Similarly, the All Day I Dream label continued to support the growth of newer artists such as Berlin's Boatman and Tel Aviv's Roy Rosenfeld while also inspiring fantastic music from some of its favorite established names. Both Gab Rhome and Sébastien Léger provided standout EPs, like Rêveries Éphémères and Underwater Rocket EP, while Gorje Hewek & Izhevski, Newman, Oona Dahl,Yokoo, Lost Desert and Lee Burridge also returned to their home during the course of 2018.

What started as a humble rooftop party in 2011 has since grown into a pillar of the international dance community. Known for its whimsical décor and close attention to wellness and inclusion, music fans across the world look forward to each day time event as a time to unwind and make cheerful memories among ethereal beats and Lee Burridge's infectious energy. It's no wonder over 100,000 dreamers made their All Day I Dream pilgrimage in 2018, and 2019 is looking even brighter.
Tickets to All Day I Dream of Cloud Cuckoo LAnd
For More Info and Updates:
https://www.facebook.com/events/2004708316488593/
Follow ADID:
https://www.facebook.com/alldayidream/
https://www.instagram.com/alldayidreamintheclouds/
https://twitter.com/AllDayIDreamOf