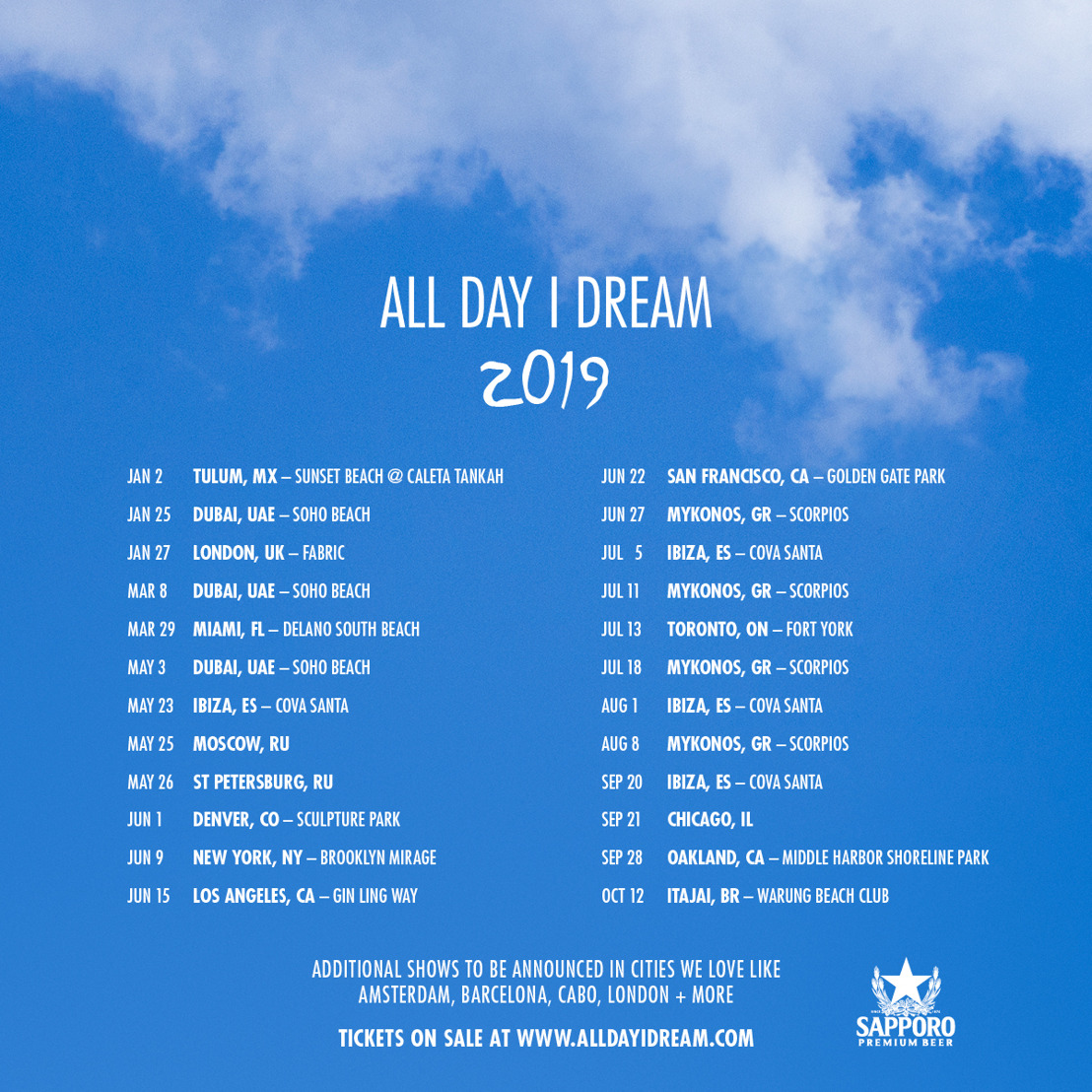 All Day I Dream, Lee Burridge's series of shimmering day-into-night gatherings, continues to spread its ethos with the announcement of its 2019 world tour. All Day I Dream conjured something truly magical nine years ago on a Brooklyn rooftop. ADID's delicately decorated spaces and ethereal, emotive soundtracking has inspired a movement which has drawn hundreds of thousands across the globe to experience the magic.
2019 sees All Day I Dream returning to its island residencies in Mykonos and Ibiza. It will also return to familiar territory in New York, Dubai, LA, London, Moscow, and San Francisco. More dates in some of ADID's favorite cities will be announced as 2019 unfolds.
On the label side, All Day I Dream continues to champion the best in melodic and expressive forms of deep house. Newer additions to the label such as Roy Rosenfeld, DSF, Newman, Facundo Mohrr, and classical crossover talent Double Touch are beginning to have made a huge impact within the deep house scene. Meanwhile, longtime family members Lost Desert, YokoO, Hoj, Gorje Hewek & Izhevski, Powel, Oona Dahl and Sébastien Léger also continue to help shape the All Day I Dream's sound and label with EPs like Eolomea, Underwater Rocket, Empire Of The Sun, and beyond.
The All Day I Dream tour announcement coincides with Lee's return to the Radio 1 decks for a brand new Essential Mix, where he's stitched together yet another beautifully personalized selection. Lee's approach to this mix is based around a night time club set. Soft pads, emotive synth arrangements, and intricate drum patterns, weave an entrancing two-hour odyssey for listeners. The All Day I Dream boss makes sure to showcase a wide range of label newcomers and veterans, including fresh compositions like Roy Rosenfeld's mystical "Rumbala," in addition to others by Simon Vuarambon, Newman, and Hoj. Most of the tracks in the mix are all brand new and unreleased to mark this special occasion. Listen closely for some upcoming material from Burridge himself—a preview of what's to come later on in the year.
ADID events are a lot of fun. Try to join us somewhere this summer, as it will be that little bit better if you are there.
Listen to Lee Burridge's 2019 Essential Mix

For More Info and Tickets to All Day I Dream's 2019 World Tour Visit:
https://www.alldayidream.com/


Connect With All Day I Dream:
https://soundcloud.com/alldayidream
https://www.facebook.com/alldayidream/
https://twitter.com/AllDayIDreamOf
https://www.instagram.com/alldayidreamintheclouds/
Tour Dates:
Jan 2: Tulum, MX - Sunset Beach @ Caleta Tankah
Jan 25: Dubai, UAE - SOHO Beach
Jan 27: London, UK - Fabric
Mar 8: Dubai, UAE - SOHO Beach
Mar 29: Miami, FL - Delano South Beach
May 3: Dubai, UAE - SOHO Beach
May 23: Ibiza, ES - Cova Santa
May 25: Moscow, RU - TBD
May 26: St Petersburg, RU - TBD
Jun 1: Denver, CO - Sculpture Park
Jun 9: New York, NY - Brooklyn Mirag
Jun 15: Los Angeles, CA - Gin Ling Way
Jun 22: San Francisco, CA - Golden Gate Park
Jun 27: Mykonos, GR - Scorpios
July 5: Ibiza, ES - Cova Santa
Jul 11: Mykonos, GR - Scorpios
Jul 13: Toronto, ON - Fort York
Jul 18: Mykonos, GR - Scorpios
Aug 1: Ibiza, ES - Cova Santa
Aug 8: Mykonos, GR - Scorpios
Sep 20: Ibiza, ES - Cova Santa
Sep 21: Chicago, IL - TBD
Sep 28: Oakland, CA - Middle Shoreline Park
Oct 12: Itajaí, BR - Warung Beach Club